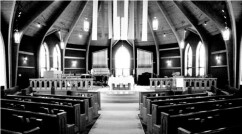 These identical services of worship are traditional and liturgical in style. The music is led by our Chancel Choir and Dr. Daniel Steinert our Director of Music.
Throughout the year these services feature special music by soloists, the Handbell Choir, Children's Choir, and special guests.
Holy Communion is served on the first Sunday of the month and other Holy days.