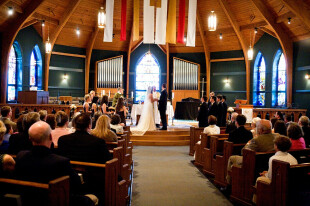 Christ Church is a beautiful place to get married and many couples each year make their wedding covenant here with us. Weddings are an important and very personal aspect of our ministry.
Christ Church does weddings for members and non-members. Because weddings are such an important and personal part of our ministry, however, each wedding must be approved by our pastoral staff and at least co-officiated by one of our pastors. We also require couples to go through premarital counseling before they get married. We are privileged to also have a wonderful group of wedding coordinators that assist the staff and the wedding party in making this the most wonderful experience we can.
If you would like information about getting married at Christ Church you can call the church office at (919) 969-8820 or fill out our online form to give us your information. Click here to get started.