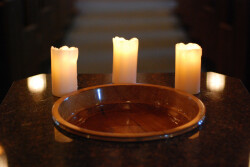 Holy Baptism is a covenant between an individual and God. It is God's word to us, proclaiming our adoption by grace and our word to God, promising our response of faith and love. It is also a covenant between an individual and a community. Baptism is the entrance into the community of faith, and during this time of commitment the church promises to welcome and foster the spiritual growth of those being baptized.
We welcomes your inquiry about the Sacrament of Baptism and we look forward to assisting you or your family with planning this special day. It is our desire to make your baptism a sacred and beautiful act of worship and celebration.
Persons of all ages can be baptized. The baptism of infants or adults should accompany a commitment of membership in the church as well. The United Methodist Church recognizes baptisms from other faiths and churches and therefore does not "re-baptize". If you are interested in being baptized or asking more questions about baptism, please fill out our contact form and we will be happy to assist you in any way we can.