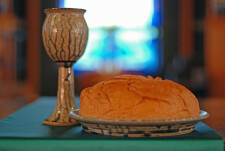 This service is informal with contemporary music and weekly celebration of Holy Communion. Music is provided by The Wellspring Band, led by our Worship Arts Director, Mary Day Saou. Find out more about the band, the music, and the service at www.christchurchworship.org/.
We make use of video/media imagery to highlight the messages.
Come as you are and experience the joy of worship. All persons are welcome to receive Communion in our church. You do not have to be a member of Christ Church or of any church. The only prerequisite is the desire to experience God's grace.