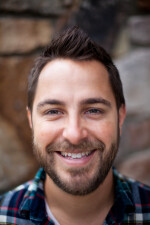 Who am I? Hi, my name is Rush Beam, and I'm the Youth Pastor here at Christ church. I have been on staff since August, 2010. I have been in youth ministry since 2000 and have worked at two amazing churches before Christ Church. I previously worked at Davidson UMC in North Carolina and First Presbyterian Church of Berkeley in California. I studied studio art while attending Davidson College in undergraduate, and earned a Master's in Christian Education with a focus in Youth Ministry from Pfeiffer University in 2006. I am married to Erin Lane who is currently earning her M. T. S. at Duke Divinity School. We have a beautiful mutt named Amelia, and we live in a wonderful old house in Durham.
What do I do at Christ Church? I have the pleasure of working with the students and families of Chapel Hill and the surrounding areas. I am responsible for youth Sunday School, small groups, Youth Group, mission trips, retreats, hanging out, games, worship, mentoring, meeting with parents, and oh so much more. I believe in a place where all students can come as they are to encounter God. If you want to know more, hang out, or just spend some time together, give me a call!
Something interesting about me: I still practice art on a regular basis, and if you want to see what I do, check out www.rushbeam.com. I also spend my time watching movies, surfing, running, reading, cooking, and taking walks with my dog and wife. I love to talk art if you are interested. God created such a beautiful world here, and I'm just trying to add to the beauty!