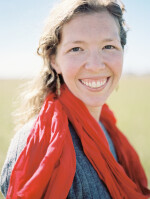 As the staff put it so well, "The wind of the Spirit blew Mary here." What a true statement! From living all sorts of places like Tennessee, Florida, Missouri, and the Bahamas, it's pretty easy to see the Spirit's hand in these wonderful changes in my life.
A Florida State graduate, I am so thankful to have studied voice performance in such a wonderful place. During my time in Tallahassee, I met my husband Mike. We were married in August,2009, and often I can't believe how lucky I am to be his wife!

After graduating, I was offered a job in Hope Town, Abaco, Bahamas working as a Family Life and Youth Pastor. It was a small church, so I was involved with children, youth, and music ministries there. Those two years were so precious!

In 2010, Mike was accepted into Duke Divinity school, so we knew we were moving to the area, but I had no clue on jobs. I came to Chapel Hill to visit my good friends, Eric and Nicole Duncan, who were getting married RIGHT HERE at Christ Church! They mentioned a possible need for a music person here, and the rest is history! It truly was the wind of the Spirit, and how glad I am for that.
The newest and most exciting event in my life has been the birth of our son, Noah, in July 2012. He is a great joy in our lives, and we have been so blessed by our supportive and generous Christ Church family in this crazy, beautiful time!

Aside from music things, I am a photographer and enjoy shooting weddings and portraits. You can see some of what I do over at daylight-photography.com. I'm beyond smitten with our dogs, Wesley and Watson. I have a love of all things Midwestern (yes, that means casseroles and farm animals). If you would like to know more about me, there is a nice comfy chair in my office that you are welcome to occupy, and we can chat!