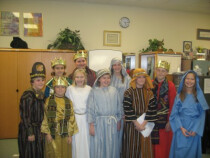 The 2013
Christmas Pageant!
This time honored tradition at Christ Church will take place on Sunday, December 15 at 5:00 pm in the Sanctuary. Children from the church and the community look forward to participating in this annual event. Last year over 120 children sang the songs of Christmas and reenacted the birth of Jesus Christ to the delight of parents and friends. The pageant is followed by a family potluck dinner at 6:00 pm.
Register your child(ren) online. Paper registration forms are also available in Ascension Hall or by calling the church office. Please be sure your children attend Sunday school regularly in November and December to get the full benefit of rehearsing the music.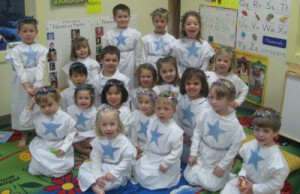 Based on parent feedback from previous pageants, we ask every family with a child participating to volunteer with rehearsals and at the pageant. This will help make the event a more enjoyable experience for children and volunteers and helps us to keep the children safe. Plenty of evening and weekend volunteer times are available, and childcare will be provided during rehearsals for volunteers with children too young to participate. We recognize this is a busy time of year, so please sign up early to get the time slots that work best with your schedule.
Adults, even if you don't have children in the pageant, we still could use your help as a volunteer. Please click Adult Volunteer Form to sign up.
Christ Church considers it a privilege to assist your children in bringing to life the wonderful gift of the birth of Jesus Christ and the true meaning of Christmas. If you have questions, please contact Catherine Neal ( ; 969-8820, x208.) Please see below for a list of important pageant dates as well as a description of pageant dress for each age group.
PAGEANT DATES
Rehearsal: Mon., December 9; 3-4:30 pm (5th graders only)
Rehearsal: Wed., Dec. 11; 3:30-5:30 pm
Dress Rehearsal: Sat., Dec. 14; 2-4:15 pm
Pageant: Sun., Dec. 15; 5:00 pm
Pot Luck Dinner: Sun., Dec. 15; 6:00 pm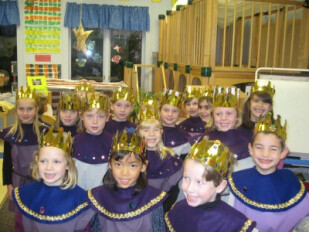 PAGEANT DRESS (Under Costumes)
3 & 4 yrs olds, Ks: Long-sleeved white shirt; Light colored pants/skirt.
1st Graders: Solid, dark, long-sleeved shirt; dark pants.
2nd & 3rd Graders: Light colored shorts & t-shirts. (They'll be wearing hooded sweatshirts and sweat pants.)
4th Graders: Dark pants; Light colored long-sleeved shirt.
5th Graders: Short-sleeved shirt, shorts, or lightweight pants.