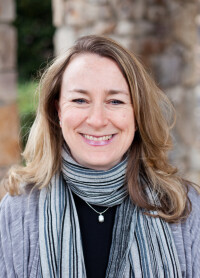 Who am I? I am a North Carolinian who was born in Mississippi (same birthplace as Elvis) and has lived most of my adult life in Canada (outside Toronto). I come from a family of Methodist pastors (both my parents and many others in the family are ordained), and I have been involved in various ministries before coming to ChristChurch. Most significantly, I lived for nine years in the L'Arche Daybreak community, a faith community near Toronto that creates homes and workshops where persons with developmental disabilities and those who assist them live and work together in a spirit of mutuality, forgiveness, and celebration. Some folks know about L'Arche through the writings of Henri Nouwen, a well-known priest and spiritual writer. It is a wonderful place that has shaped me deeply. I have also worked in urban, campus, prison, and hospital ministry. I went to Duke for undergrad and DivinitySchool.
What do I do at ChristChurch? As an Associate Pastor, I share in providing pastoral care for the congregation and leadership of worship, as well as other various and sundry tasks of church work. My particular areas of focus are Adult Spiritual Formation--including small groups, bible study, retreats, etc.--and Missions. I am delighted to help nurture opportunities for folks at ChristChurch to grow and deepen in their faith and to reach out in service to our neighbors.
Some interesting things about me: I love being outdoors and have a good many hobbies that take me there—running, hiking, camping, kayaking, wave jumping at the beach…. I also practice yoga, and I love to travel.
A scripture passage that speaks to me is Psalm 139, which begins, "O Lord, you have searched me and known me.." I love the comfort of being known by God, of never being beyond God's presence, love, and light. I find particular strength and hope in praying with the Psalms.